- Another long story -

Since I started to work with Zen Surf Morocco in January of 2020, the surf community I'm getting involved with are constantly asking me about this. You want to know about Morocco and I completely understand it:
It's different, it's exotic, seems close but far at the same time, kind of paradise but with 2 main languages I don't even speaking and... at the end we want information. Here it is. I'm going to tell you through my eyes how I spend my winter seasons (autumn, winter and spring, actually) in this beautiful area. 
This is going to be your room for this visit. If you are wondering who made the wall paint was Yutta, a friend of us who has been coming and going many times while is working in her own art. You can find her as @yutta.valter
Usually the day starts soon. 7:30am is the first yoga class, but if this is your first time here, it's probable that the first calls for praying will wake you up little bit before. Welcome!
Stretch is important.
It's going to be a day full of experiences so better you get ready for it as good as possible.
Now the breakfast, one of my favorite moments of the day:
Natural orange juice everyday, pancakes, msemen (moroccan crepes), fruits, tea, coffee and few jams to start trying delicious food, but probably the most typical and exotic this is the famous Amlou. A mix of almond and peanut butter with Argan oil and honey. It's impossible not enjoying it every morning. It will give you the power you will need during the day!
But if it's Friday, you will try the amazing eggs tajine in the morning. Seems weird to have eggs with onions and tomato for breakfast but now I love it!
Once we are full, it's time to get ready. Take your wetsuit and beach bag because the cars have the boards already on!
Everyday is a new surf trip. Seeking waves at different spots to find the best place for the day according to the level of our guests and the tides.
Devil's Rock, CroCro Beach, Banana Point... some spots have cool names here. Other are just kilometers: Km 17, the 25 or the 12. Their names are not so popular and they call them by at which kilometers they are located.
And then, when we find the right spot, it's time to unpack the stuff, maybe wetsuits on, sunscreen moment or even listening some moroccan loud music to motivate ourselves!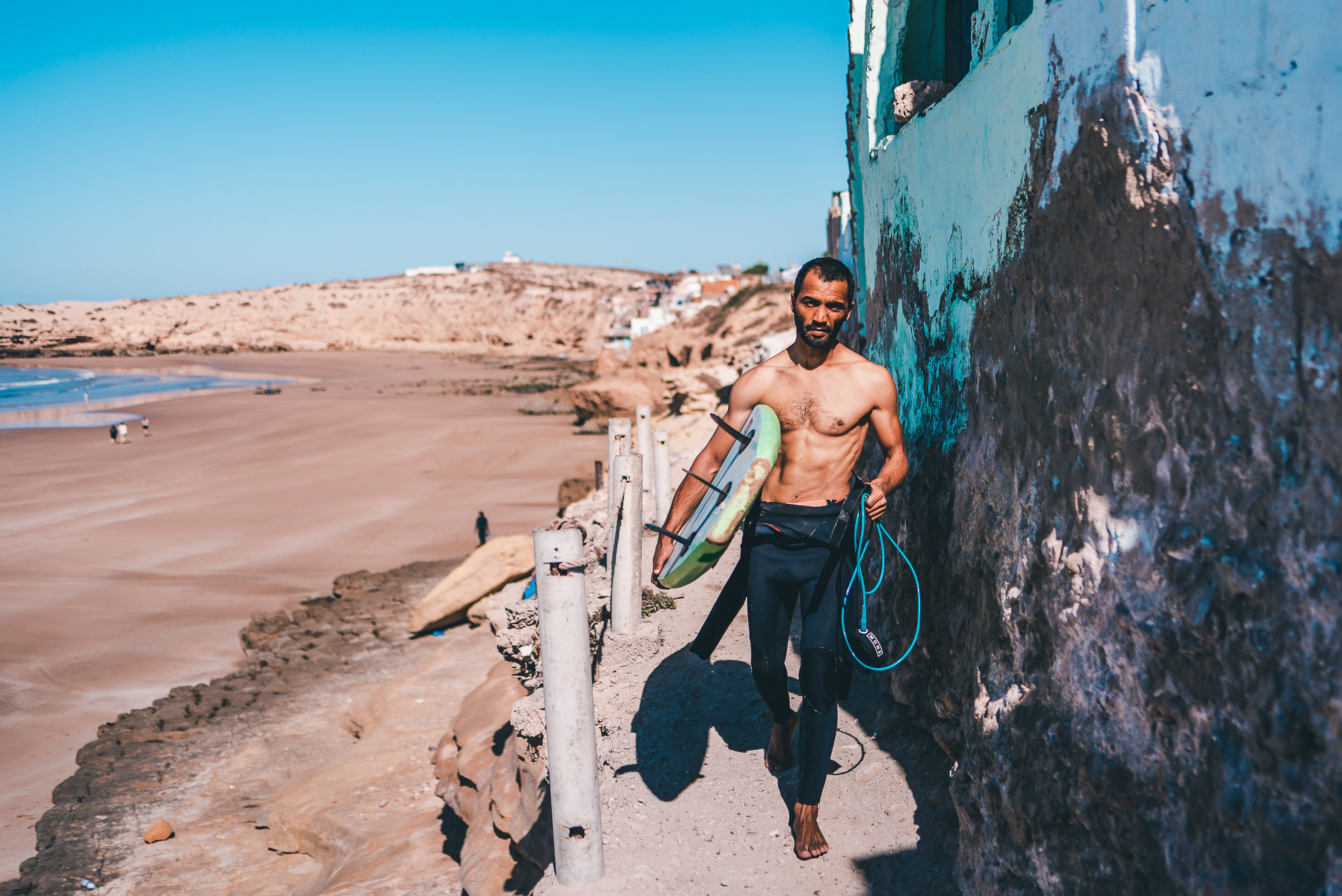 Dressed up, and I think everyone need some instructions and warm up before to go.
Then the ocean.
I spend a lot of hours in the water, and it's probably the part I enjoy more.
I think everyone deserves a photo in which you are practicing your favorite sport.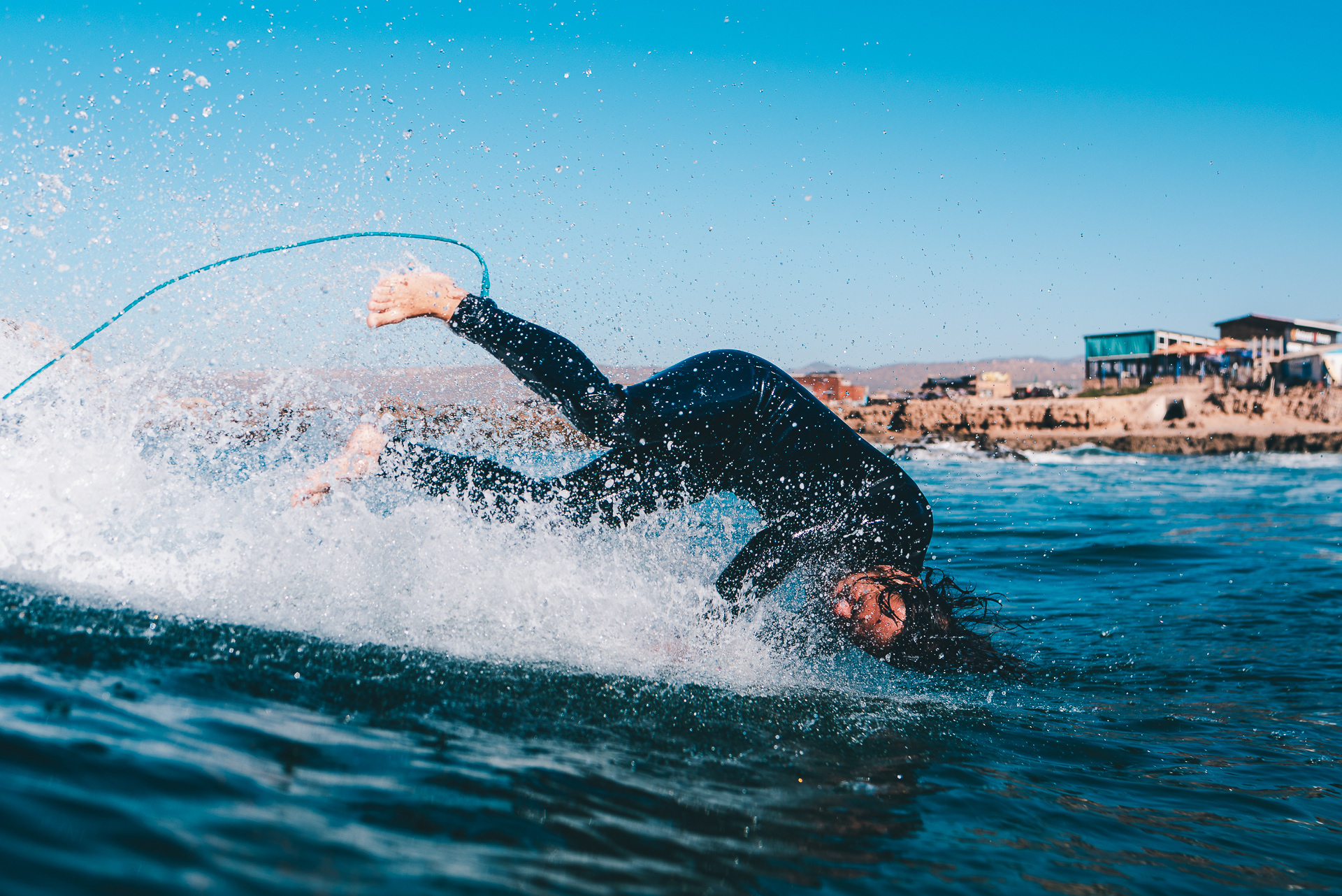 It's impossible to not have fun with my guests.
People attracted by surf... they are not just spending their money, also their free time in a new experience they don't know if they are going to like or not. And I feel so much chemistry with people who take those decisions...
So basically we make a break for eating, and then moroccan locals appear offering some snacks, to take a walk by camel or... who knows, selling carpets. Anytime is a good time for carpets.
In the afternoon there are many things to do, so it depends on the day: Taking a massage + hammam is always an option, but Taghazout is a nice shopping visit if you are looking for souvenirs. 
Buf if you like to surf the road... I'm always joining the surfskate session!
On Wednesday you CAN'T miss the Souk.
It's the local market, just 5 mins walking from our camp. Local products, a lot of fruits, the most juicy dates, or just 8 different kind of peanuts. I love the anise ones!
Also from 5pm on, the light is usually so nice, so I dare you to take your camera and try your best in street photography! Here are mines:
Welcome to this old world. You can try everything, just make a sign of request and grab some with your hand. They are glad to let you try whatever you are interested in. 
I try to catch my people around and take them to my favorite seller in the Souk. We don't have any agreement, I can't even talk with him more than 2 words, but I know, and he knows...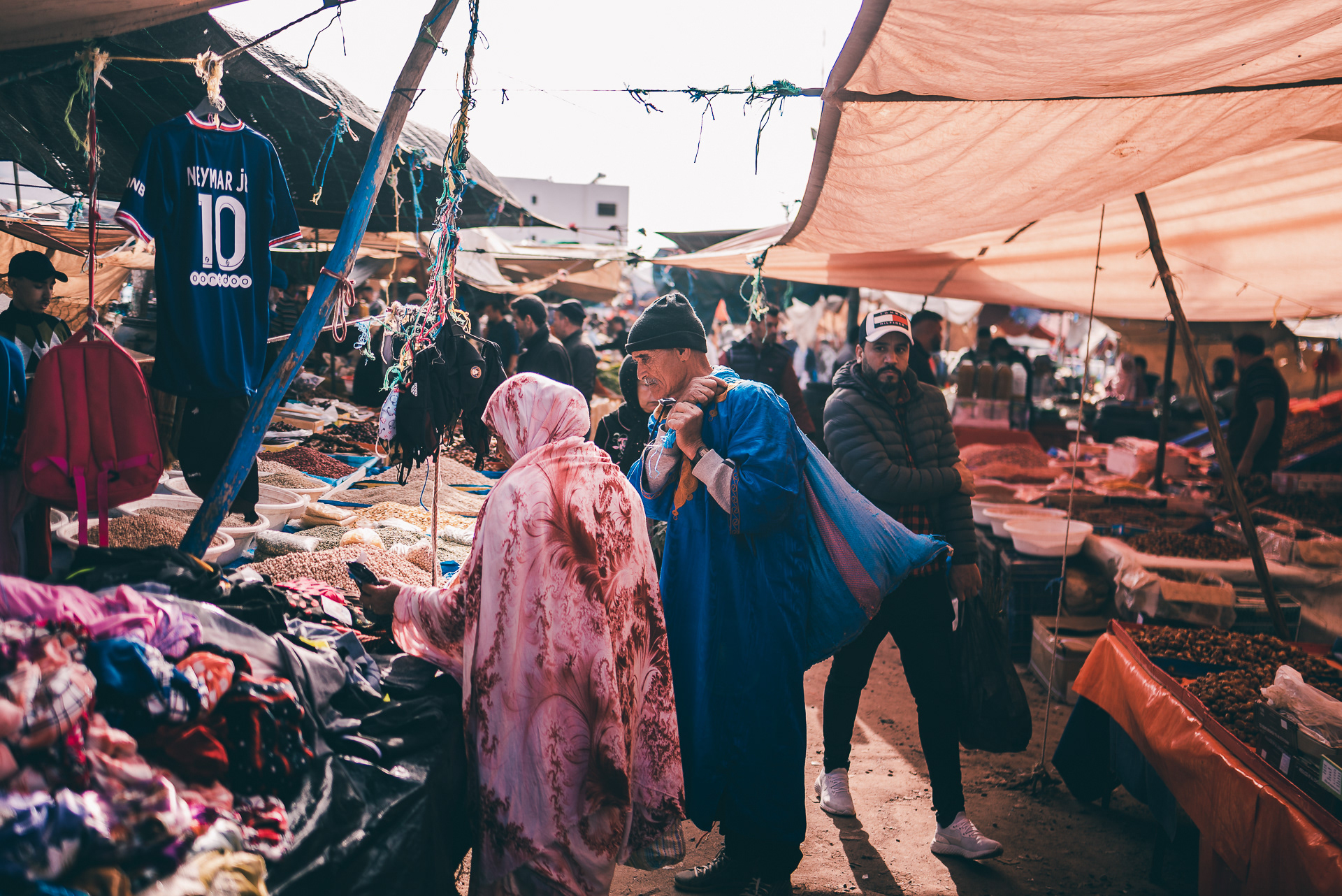 Zina, our home dog, is always coming to be sure we don't take any risk. She is a bodyguard dog!
Then the second Yoga session, more relaxing to introduce yourself to a relaxation moment before the dinner.
 And depending on the month you even will have time to enjoy the sunset with the team, right in front!
After this, still having time for some play time at night.
Sometimes it's just beautiful enough to chat and nothing else.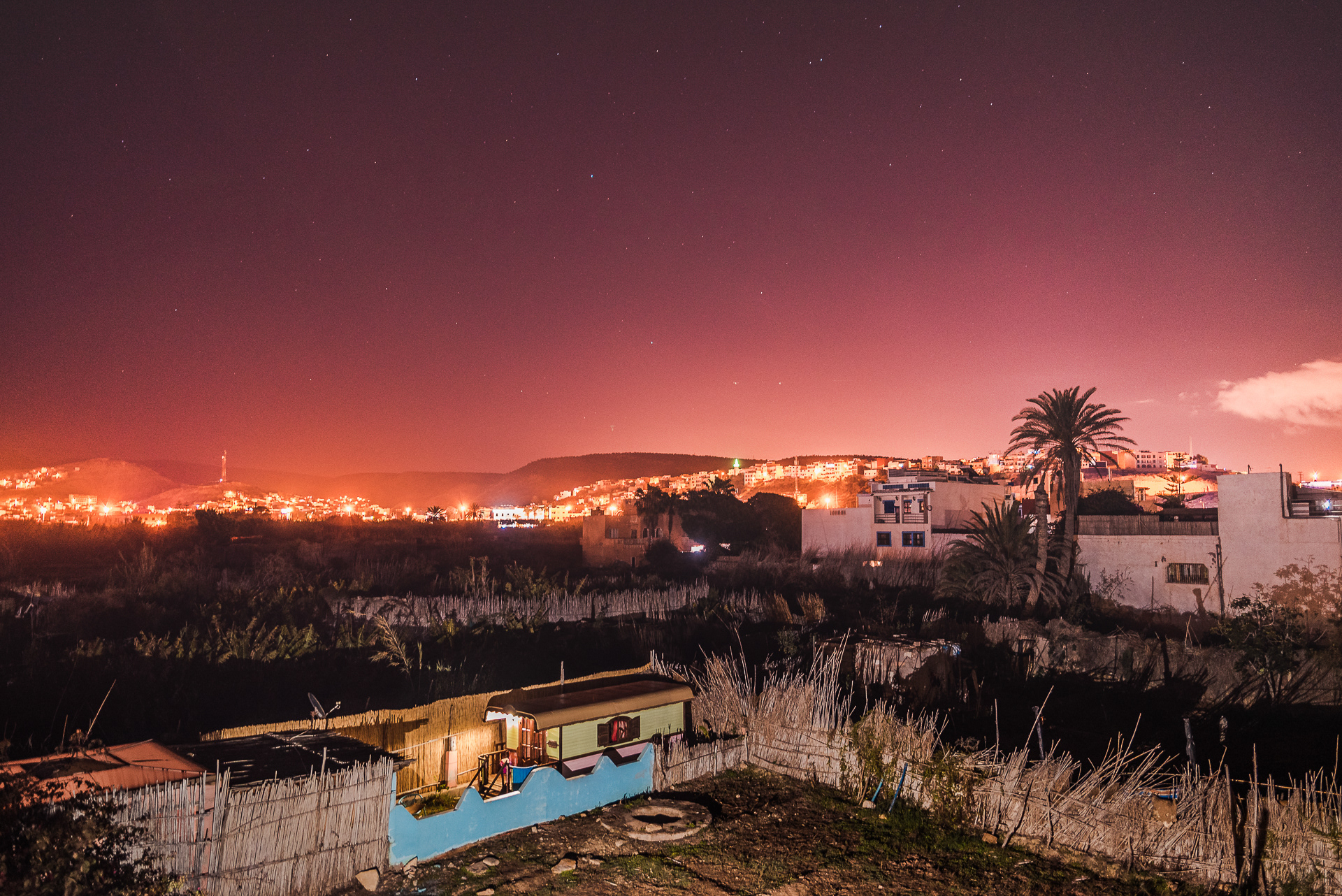 If your are an early bird, Morocco has beautiful morning for you and your board.
Be brave, go surf before the breakfast!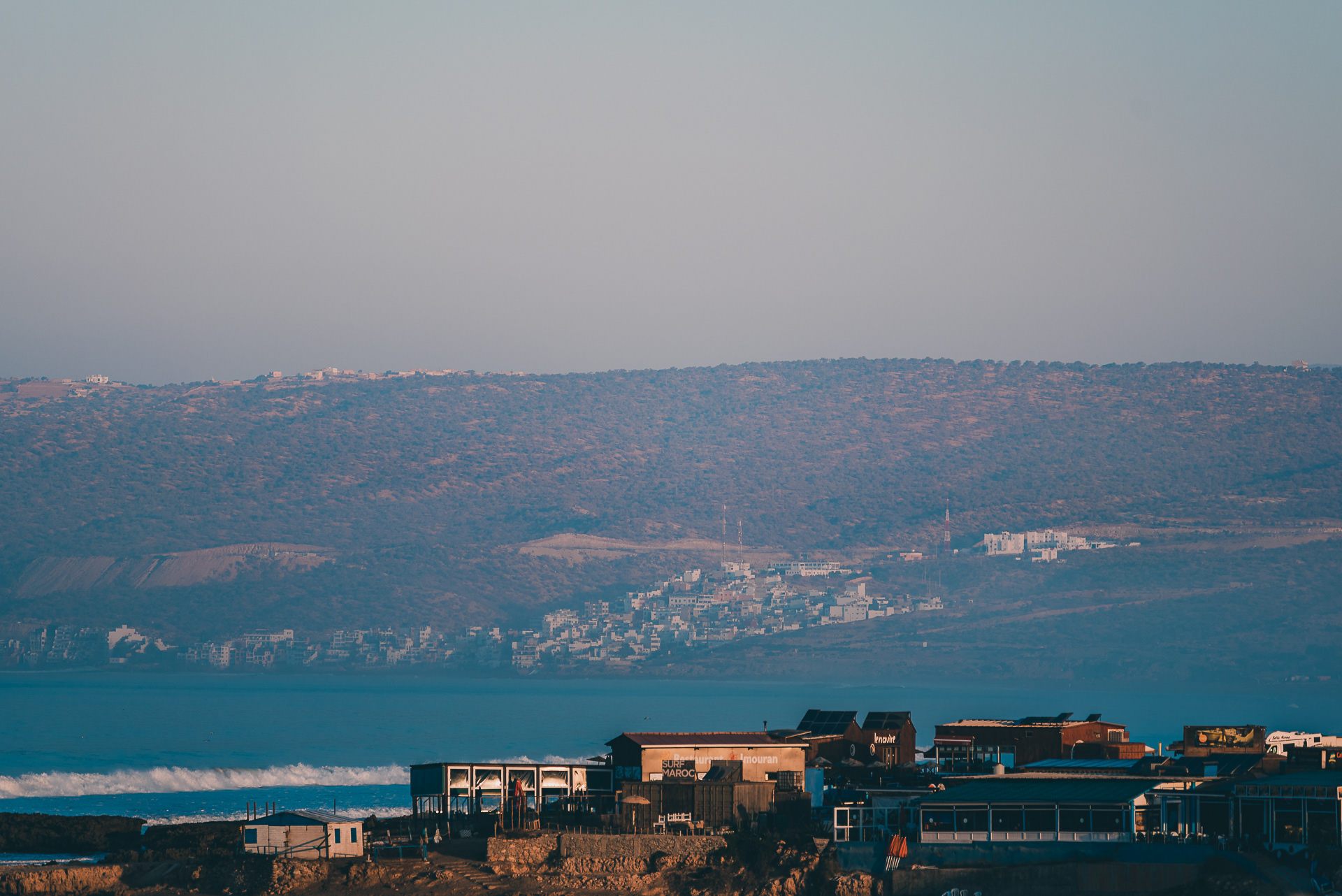 If not... you still having many things to do: trip to Paradise Valley, going to Agadir (which has the biggest souk in the North of África), sand surf in the dunes of Tamri, visiting artesan Argan Oil factory, or just enjoy your days with the new friends you have met during your surf week.
At the end Zen Surf Morocco just offers you an opportunity to discover a genuine immersive cultural experience, as well as practice your favorite sport. Are you in?
So... See you there!
Insha'Allah
If you don't want to appear in one of these photos, please send me a message.